Elevate any space with acoustic solutions

It's a tough call, choosing between a pretty or a practical solution. Most natural materials lean towards better aesthetics in an interior, but when it comes to acoustics, they're less likely to be your first choice for a project. Luckily, there are solutions available such as Decospan's acoustic panels, Astrata Coustics and Woodcoustics, that combine the best of both worlds. But what specifically impacts the acoustics in a room and which solution should you use for which application?
Making yourself heard over the din of a noisy cafeteria or attempting to discreetly say something in a reverberating auditorium can be a challenge in itself. In these instances, it's necessary to consider more heavy-duty acoustic solutions for larger-scale interior projects.
However, less restrictive smaller-scale applications also require acoustic solutions. Why do people always whisper in waiting rooms? And it's always nicer to dine in a quiet restaurant rather than a loud one. The acoustics here are just as important, even if we're talking about other levels of sound.
Acoustic panels help absorb and reduce sound in any room, providing greater comfort. To do so, they transform sound into mechanical energy the moment it gets absorbed by the panel and supporting structure.
This energy is split into three directions:
One part gets reflected back into the room
Another is absorbed by the acoustic material
The last part goes through the panel into the supporting insulation layer
These actions make Decospan's panels a lot easier on the ears – especially since they're built to accommodate medium and low frequencies, such as human voices.
Fascinated by more sound theory? You'll find an in-depth explanation on the Woodcoustics website.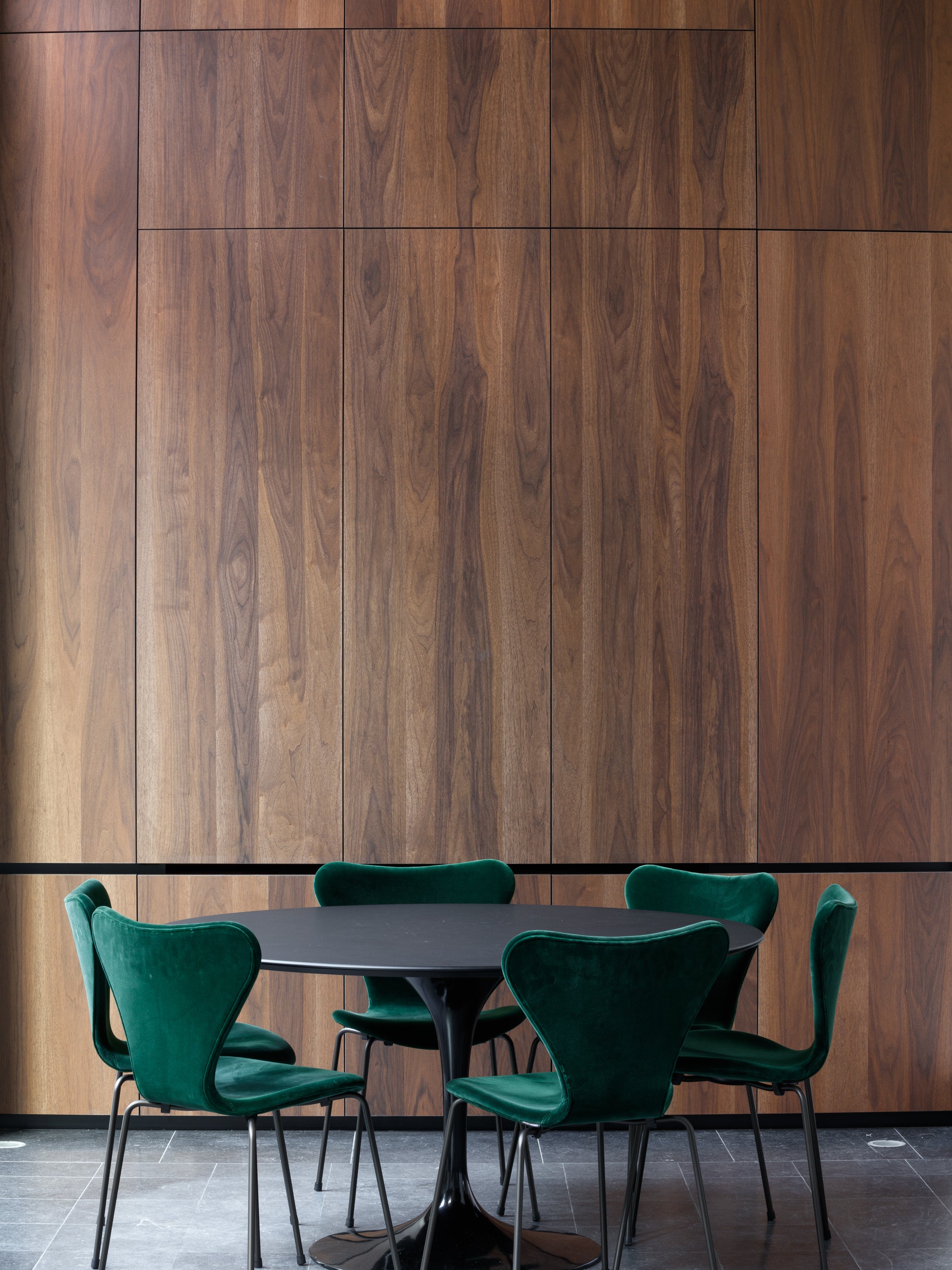 There are many types of acoustic panels out there for all sorts of applications. Decospan offers two main ranges of sound-absorbing solutions: Astrata Coustics and Woodcoustics. Find out which one is better suited for your interior project.
Astrata Coustics, part of the Astrata range, is your go-to for acoustic absorption when sound requirements are less strict. These panels are ideal for smaller-scale projects such as private practices and home interiors, but also work well in a larger space such as a restaurant or museum: places that generally provide a better experience when things are less noisy.  
The panels are made up of wood veneer slats glued to a high-quality interwoven PET (Polyethylene Terephthalate) felt – a material composed of recycled PET bottles. There are several design options available:
Prefinished wood panels: the ready-to-use panels are cost and time-efficient, while still respecting the natural wood look and feel. Plus, they work great in combination with Shinnoki panels or a Parky floor. 
Unfinished wood panels: a natural oak look, sanded and suitable for more bespoke solutions according to your client's preferences. These go great with the Querkus range.
The Astrata Coustics decorative panels are available for wall and ceiling applications. Got your own Astrata Coustics project you'd like to share with us? Get in touch!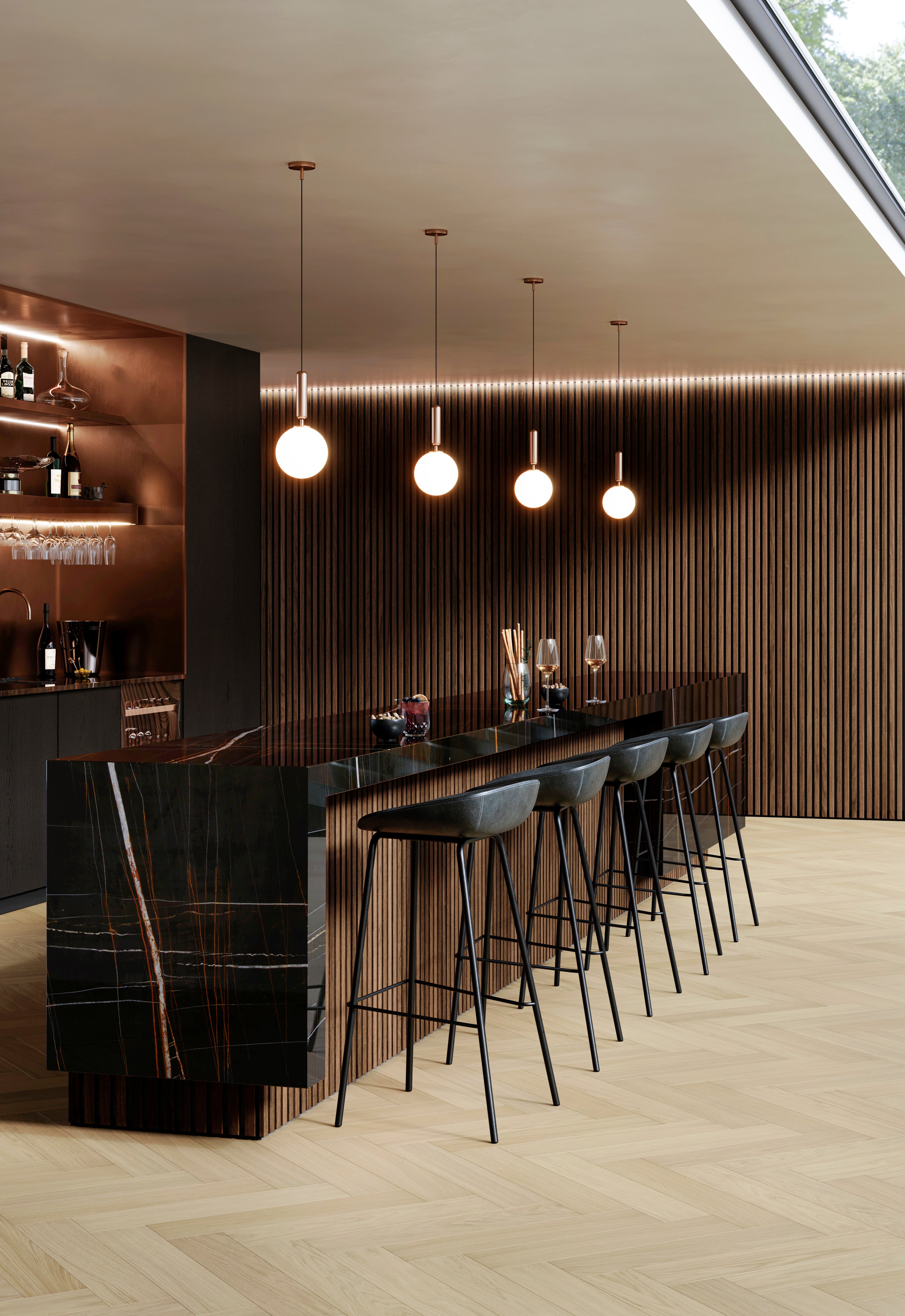 Decospan's Woodcoustics panels, created in collaboration with Triplaco, work best in large-scale applications such as schools, open-plan office environments and auditoriums. The acoustic panels can also be tailored to accommodate all sorts of applications. Using a wood veneer layer of choice as a decorative element, the panels can be used in wall coverings, furniture applications, ceilings, door coverings… the possibilities are endless.
There you have it: a solution for any acoustic application using wonderfully natural materials. Want to get inspired for your next project? Browse the Woodcoustics and Astrata Coustics samples in our webshop.
Get your samples